All events
Snowdayz 2022
Fun & Action Events
Event start time 12.2.2022 12:00
Event end time 19.2.2022 17:30
Finally taking place after one year break, the legendary Snowdayz! Join us with your friends on the annual VIS snow sports camp in the Swiss alps.
Sponsor time
Thanks to our sponsor Ergon, we get to enjoy an even more awesome snow camp for the buck! With a flat hierarchy and short communication channels, Ergon creates unique customer benefits from digitization trends - from the idea to market success. They combine technology, security and business expertise and implement smart solutions for complex demands. First-class trained experts develop user-friendly individual software and internationally proven standard software for customers from a wide range of industries. From AI to augmented reality to fraud detection, Ergon is always at the forefront with its broad know-how. With Airlock's Secure Access Hub®, Ergon develops and distributes an internationally established security solution that is a market leader in the field of application and identity security. Looking for a job? Whether you need an internship or work part-/fulltime as a full stack (or backend/frontend only) developer in Java, Kotlin and Typescript, Ergon has it covered. If you are interested, check out all open positions (jobs and internships) at https://www.ergon.ch/en/us/careers/jobs.
TL;DR
Restriction: 2G (2x vaccinated OR 1x vaccinated and recovered)
When: Sa 12.02.22 - Sa 19.02.22
Where: Lenzerheide GR, Parpan, Gruppenhaus Jenatsch.
Included:
Travelticket (from and to Zürich HB)
Ski ticket (6 Days)
Accommodation
Food (Breakfast, Lunchbag, Diner)
Alcoholic Beverages
Evening events (Fondue night, Mulled wine bar, cocktail bar, Jass tournament, Game night)
Not included:
Night sledging (optional)*
Wellness evening (optional)*
Ski or Snowboard gear (I advise you to not see this as optional)
*registration required via link sent with the payment-confirmation-mail until 3 weeks before the event
Price:
VIS member: 490.-/500.-
Non-VIS member: 150.- more
Refund: Under solid reasoning (Death in family, sickness with medical report, cancellation of the Snowdayz, etc.) you will get your money back. Oral exams are NOT a solid reason.
Insurance: Insurance is the responsibility of the participant.
Location
This year we are going to Lenzerheide GR. We are accommodated in the group accommodation Jenatsch. We are 1 minute away from the bus station and 5 minutes from the base station of the Heimberg lift (See map with red arrow below). The snow sports area is connected to Arosa and the combination results in an exceptional mountain experience with 225 km of slopes and 42 lifts. Alone in the snow sports area Arosa-Lenzerheide your skiing holiday will be an unforgettable experience.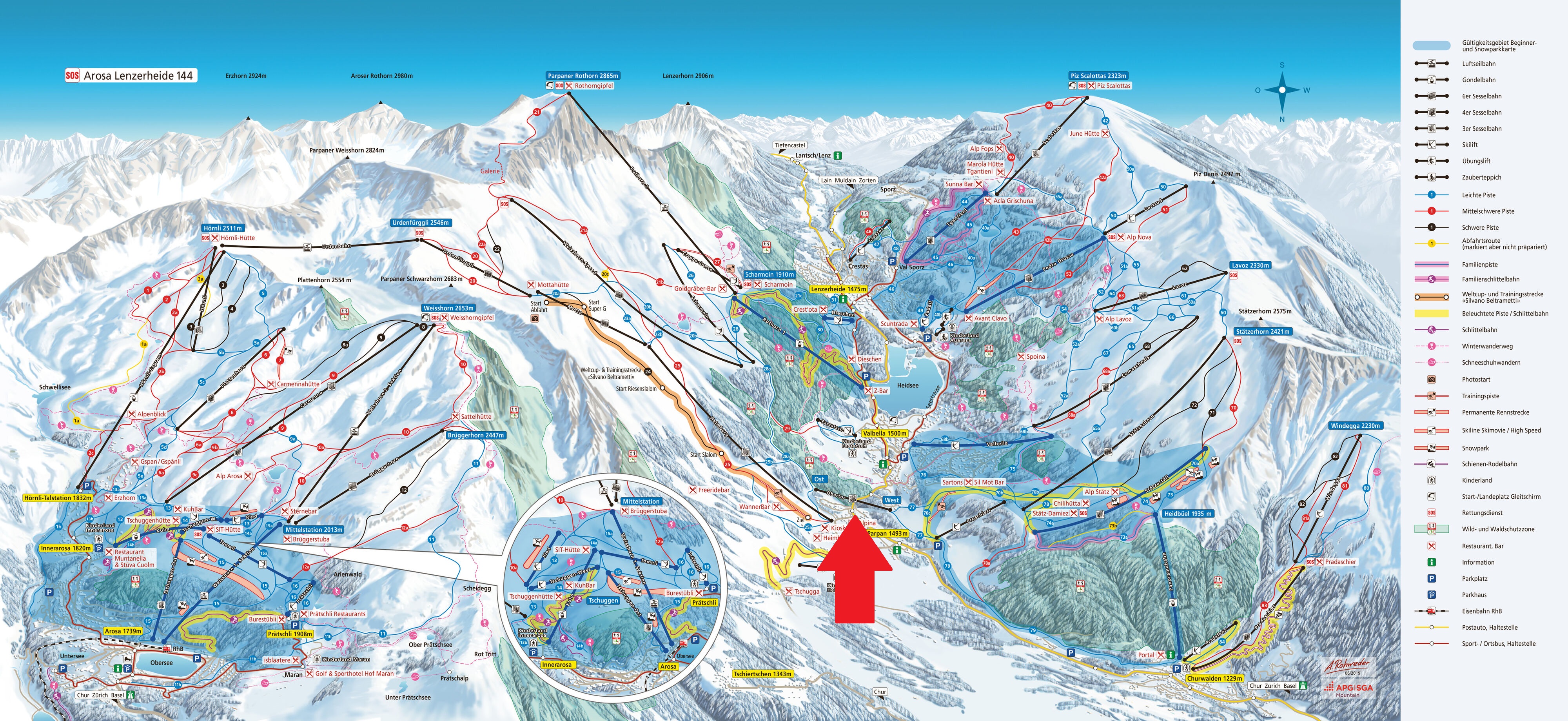 Skipass
You will receive a ski pass for the whole area, valid for 6 days. There is no option to get a reduction without the skipass.
Accommodation
Our accommodation, the group accommodation Jenatsch, has enough space for roughly 90 people. There are a few common rooms for relaxing and interacting with each other and different sized bedrooms (6, 4, 3, 2). A sleeping bag is not needed. Please check out the link for more information. You don't have to wear a mask in the building as we are all vaccinated.
Travelticket
You have two options to choose from: Travel with the group or travel alone (single).
If you travel alone (single), you alone will be responsible for getting to our stay.
If you travel with the group you have to travel with us from Zürich HB to Lenzerheide, Parpan and back. You cannot get on later or leave early, as the group ticket from SBB is very strict. Resulting non-compliance costs will be charged to the offender. You can always write us an email that you want to switch your travel option until a few days before the event!
The exact travel times will be sent to you by mail a few days before the event.
Food
All our food will be provided by our hosts. We will receive breakfast, lunch bags and a three-course diner. There will be vegetarian and vegan options. Please select your preference as well as allergies at the registration.
Alcoholic Beverages
During your stay, we give our best to supply you with enough beer, wine and mead for free.
Evening Events
Throughout the whole week we offer you some evening events. All are optional and the exact day of the event will be announced at our arrival.
Fondue evening with a torchhike
Beer pong tournament
Jass and Board game night
Mulled wine bar
Cocktail bar
Swimming and Wellness evening at H2Lai (costs not included)
Night sledging (costs not included)
We expect you to behave and support the Snowdayz Team ;)
Take along (suggestions)
Masks (Medical, cotton, Buff, Muntagnard)
Vaccination certificate (QR code on phone or proof on paper)
ID
Swiss Pass (if you have one)
Slippers
Towel
Swimsuit
Some form of games (Cards, Boardgames, Switch)
Music player (Boomboxes are welcome!)
Ski / Snowboard
Headlamp (useful if you want to go night-sledging or night-skiing)
Good shoes (there will be snow)
Sun cream
Personal hygene stuff and clothes, duh
Good humour
Cash for activities
Padlock
Etc.
Q&A
"I have no ski equipment :("
No worries! At the base station a few minutes away from our stay there is the Allmountain Sport Rental where you can rent your snowboard or ski equipment.
"I have a friend but he is not a VIS member :("
No problem at all! Just write us an email and we will add him. Be aware that the participation fees for him are not the same as for a VIS member.
"I am not a VIS member but I want to participate :("
Sure, we are happy to have you! We will open the registration for non-VIS members mid December. Roughly two weeks after the opening for VIS members.
"Exams?!"
The exam schedule should be out the latest on 29. November. We are not going to open the registration without you knowing your written exam schedule!
"I cannot ski or snowboard, is there is school?"
In case you cannot or don't want to learn it with your friends, we are organizing groups beforehand so you know what to expect before you register! There is a snow sports school for ski and snowboard in Parpan, check it out here. The more people join, the cheaper it gets (roughly between 15.- and 30.- per hour and person). If you want to seize the opportunity, then join our telegram channel here and write your "nethz" shortcut with what you want to learn "ski" or "snowboard" (e.g. knobelf ski). We will then inform you about the group size and price 2 days before the opening of the registration. Please tell us until 29.11. in the chat if you are going to register, so your friends won't feel abandoned.
Why are you collecting our T-Shirt sizes?
Incase we can provide you with certain clothing goodies. This is an ongoing process, we cannot guarantee anything yet.
More Questions?
Mail us your questions or concerns at snowdayz (at) vis.ethz.ch.
| Abo | Travel | Cost VIS members | Cost non-VIS |
| --- | --- | --- | --- |
| I have a GA | With group both ways | 490.0 | 640.0 |
| I have a GA | Single both ways | 490.0 | 640.0 |
| I have a half-fare card (Halbtax)/nothing | With group both ways | 500.0 | 650.0 |
| I have a half-fare card (Halbtax)/nothing | Single both ways | 490.0 | 640.0 |
Event organisers
Main event organiser Franz Knobel
Co-organisers