All events
Snowdayz 2023
Fun & Action Events
Event start time 11.2.2023 13:00
Event end time 18.2.2023 18:30
The legendary Snowdayz, the skicamp organized annually by VIS is right around the corner. Join us with your friends and experience an exciting week in Hasliberg-Meiringen BE.
TL;DR
When: Sat 11.02.23 - Sat 18.02.23
Where: Meiringen BE, Parkhotel du Sauvage
Ski region: Hasliberg (5 min walk or direct bus)
Included:
Travelticket (from and to Zürich HB)
Ski ticket (6 Days)
Accommodation
Food (Breakfast, Lunchbag, Diner)
Alcoholic Beverages
Evening events / Specials (Fondue night, Mulled wine bar, cocktail bar, Jass/Tichu tournament, Game night, Ice Skating and many more!)
Night Skiing and Night Sledging (excluding sledge rental)
Indoor Swimming Pool
Not included:
Sledge Rental (optional)
Fitness/Wellness evening (optional, but we have 20% off)*
Ski or Snowboard gear (we advise you to not see this as optional)
*registration required via link sent a few weeks before the event
Price:
VIS member: 490.-/500.-
Non-VIS member: 150.- more
Refund:
Under solid reasoning (Death in family, sickness with medical report, cancellation of the Snowdayz, etc.) you will get your money back. Oral exams are NOT a solid reason.
Insurance: Insurance is the responsibility of the participant.
Evening Events
Throughout our stay, we will be offering fun and exciting evening events. All are optional and the exact day of the event will be announced at our arrival.
Fondue evening
Beer pong tournament
Jass and Board game night
Mulled wine bar
Cocktail bar
Wellness evening (costs not included)
Night sledging / skiing (costs for sledge renting not included)
Location
This year we are going to Meiringen-Hasliberg BE. We are accommodated in the Parkotel du Sauvage. Our accommodation is 1 minute away from the bus station and 5 minutes from the base station of the Meiringen-Reuti cable car (See map below).
Parkhotel du Sauvage is a four star hotel including an in-house bar and various halls rented specially for us. The building is absolutely gorgeous and located right in the center of Meiringen.
The ski resort has 60 km of slopes and we can store all our equipment right at the cable car station, so you won't have to worry about carrying your skiing equipment around.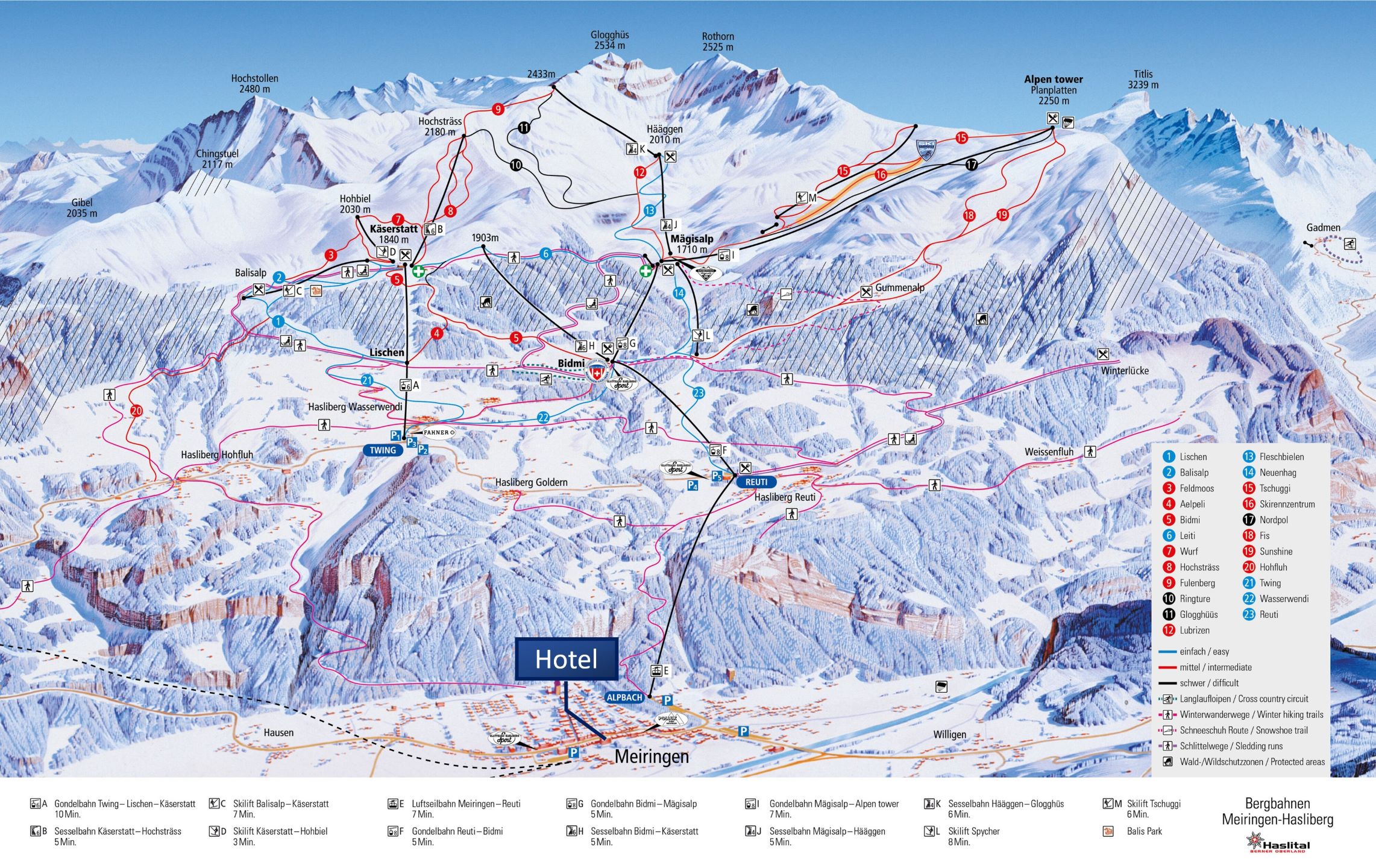 Small side note for all the Sherlock Holmes fans: Right next to the hotel is the Sherlock Holmes museum and according to the hotel website Sir Arthur Conan Doyle visited this hotel to write the final story of Sherlock Holmes. The famous Reichenbach Falls where Holmes had his fight against his rival Moriarty are only a few kilometers away.
Skipass
You will receive a ski pass for the whole area, valid for 6 days. Reduction in participation cost by refraining from a skipass is not possible. Additionally you receive the Tourist Card Haslital with the following benefits.
Accommodation
At our accommodation Parkotel du Sauvage, there are lots of spacious common rooms for relaxing, playing games and having fun with each other. Each bedroom contains 4 beds and will be assigned based on your individual group preferences. No need to bring sleeping bags.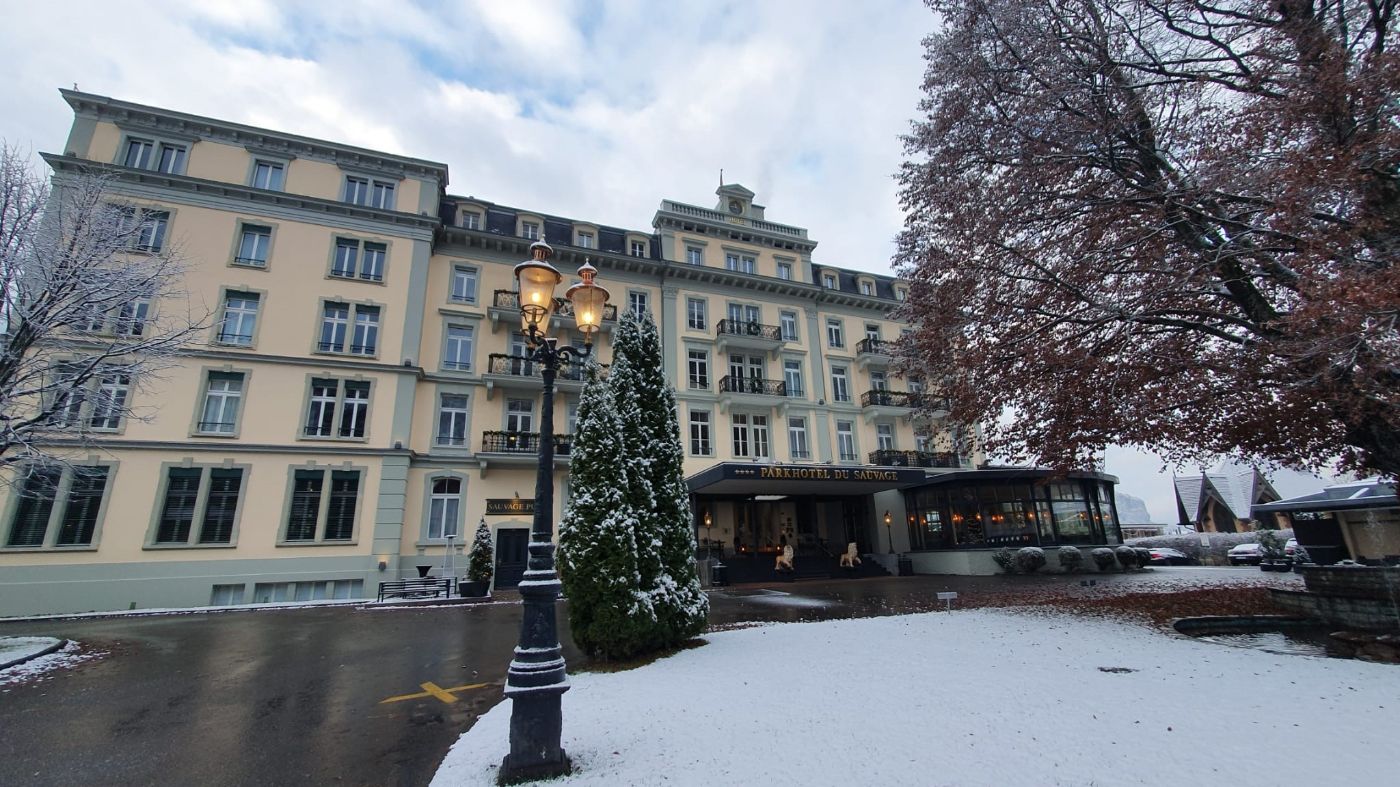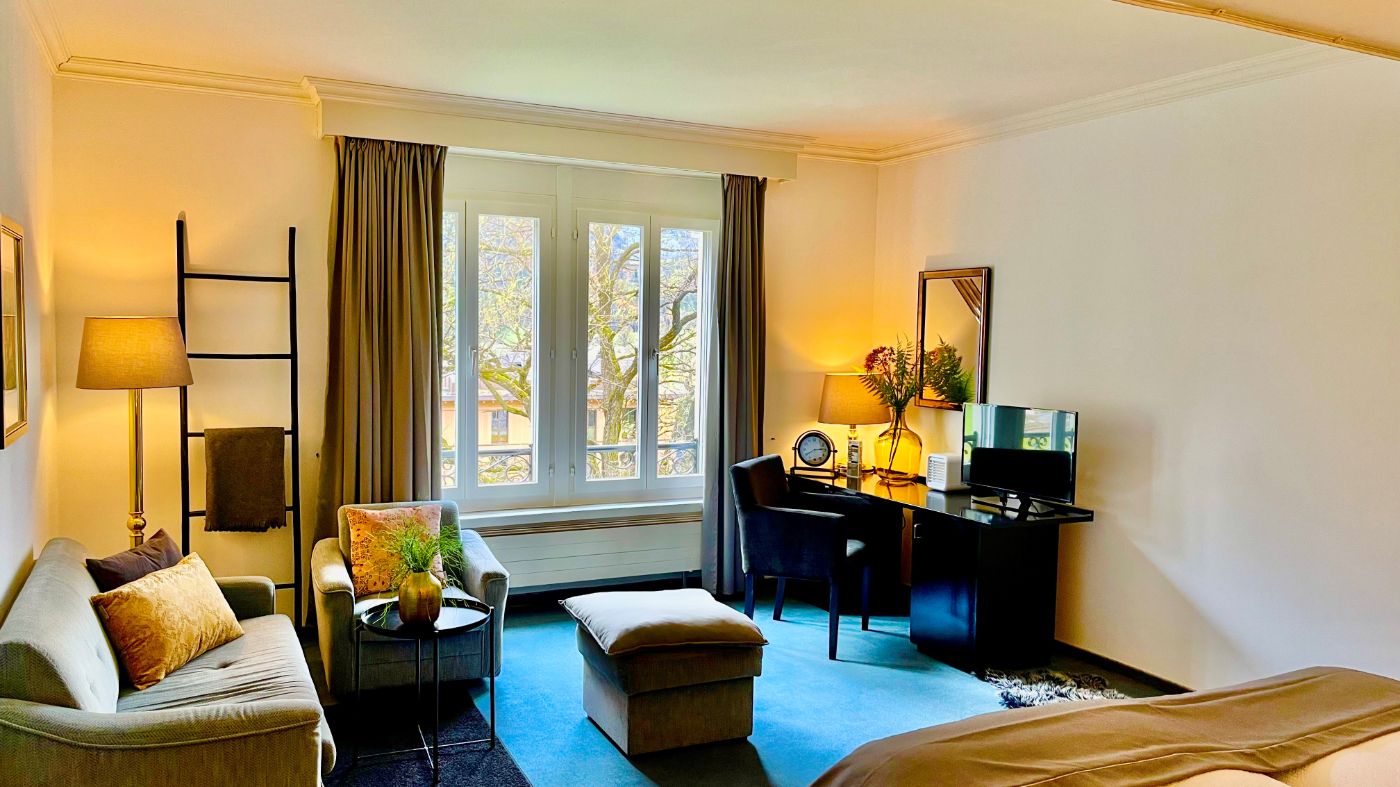 Travelticket
You have two options to choose from: Travel with the group or travel alone (single).
If you travel alone (single), you will be responsible for getting to our stay.
If you choose to join the group, you will travel with us from Zürich HB to Meiringen and back. Unfortunately, you cannot get on later or leave early, as the group ticket from SBB is very strict. We will not pay for costs incurred because of non-compliance. However, you can always shoot us an email about switching your travel option up to 1 week before the event!
The exact travel times will be sent to you by mail a few days before the event.
Food
All our food will be provided by our kitchen team. We will provide breakfast, lunch packages and dinner. There will be vegetarian and vegan options. Please select your preference as well as allergies at the registration. For further information or questions please contact Joël Vögtlin.
Alcoholic Beverages
During your stay, we will give our best to supply you with enough beer, wine and mead to last for the whole week. Of course you are welcome to bring your own favourite drinks as well!
We expect you to behave and support the Snowdayz Team ;) By participating you consent that videos or photos taken during the event might be used for VIS purposes in the future.
Take along (suggestions)
ID
Swiss Pass (if you have one)
Slippers
Towel
Swimsuit
Some games (Cards, Boardgames, Switch)
Music player (Boomboxes are welcome!)
Ski / Snowboard gear
Helmet / sunglasses
Headlamp (useful if you want to go night-sledging or night-skiing)
Good shoes (there will be snow)
Sun cream
Personal hygiene stuff and clothes, duh
Good humor
Cash for activities
Padlock
Etc.
Q&A
"I have no ski equipment :("
No worries! A few minutes away from our stay there are the two rental shops Pollux Sport and Glatthard Sport where you can rent your snowboard or ski equipment. But if you don't mind the extra trouble, in a lot of cases it is less expensive to rent the equipment in a store that is not located in a ski region.
"I have a friend but he is not a VIS member :("
No problem at all! Just send us an email and we will add him. Be aware that the participation fees for him are not the same as for a VIS member.
"I am not a VIS member but I want to participate :("
Sure, we are happy to have you! We will open the registration for non-VIS members early January. Roughly two weeks after the opening for VIS members.
"Exams?!"
The exam schedule should already be out. Make sure that you check it first before registering for the camp.
"I cannot ski or snowboard, is there a school?"
In case you cannot or don't want to learn it with your friends, there is a ski school in our ski resort. If you book on your own the prices vary from (23.- to 30.- per hour and person). But if enough people are interested in taking lessons we can organize an extra class for you and it will be cheaper. If you want to seize the opportunity, then join our WhatsApp group here and write your "nethz" shortcut with what you want to learn "ski" or "snowboard" (e.g. jvoegtlin ski). We will then inform you about the group size and price. Please tell us until 31.12. in the chat if you are interested or not.
Why are you collecting our T-Shirt sizes?
In case we can provide you with certain clothing goodies. This is an ongoing process, we cannot guarantee anything yet.
More Questions?
Mail us your questions or concerns at snowdayz (at) vis.ethz.ch.
| Abo | Travel | Cost VIS members | Cost non-VIS |
| --- | --- | --- | --- |
| I have a GA | With group both ways | 490.0 | 640.0 |
| I have a GA | Single both ways | 490.0 | 640.0 |
| I have a half-fare card (Halbtax) or nothing | With group both ways | 500.0 | 650.0 |
| I have a half-fare card (Halbtax) or nothing | Single both ways | 490.0 | 640.0 |
Event organisers
Main event organiser Diego Arapovic
Co-organisers